Human Machine Interfaces (HMI)
900 Control Station
Honeywell's 900 Control Station complements the ControlEdge​™ HC900 PAC by providing an advanced, user-friendly and cost-effective interface that enhances the controller's performance and improves operator efficiency.​​​​​​​​​​​​​​​​​​​​​​​​​​​​​​​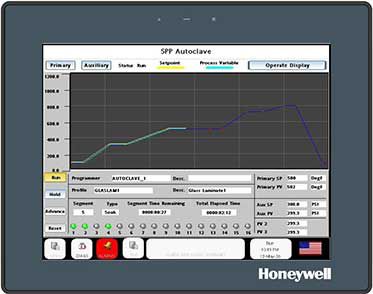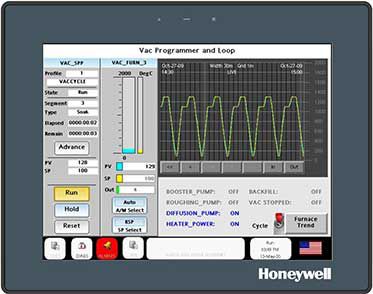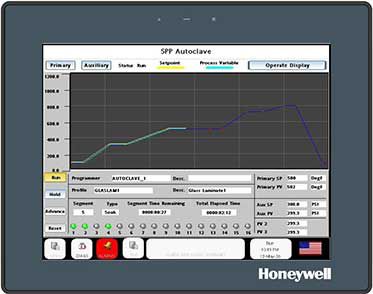 What Is It?900 Control Station is an advanced user interface with color display and finger touch. It is available in two display sizes – 10.4 inch and 15 inch – and can be easily configured, operated and managed. The product is suitable for demanding global applications and its full metal case design and water-tight front bezel assembly make the 900 Control Station ideal for tough industrial environments.How Does It Work?​The 900 Control Station includes the Station Designer PC configuration software, supports Ethernet-based connectivity, and has an advanced user interface, along with an optional Wi-Fi interface which provides users the flexibility of viewing and managing their process from anywhere. It includes two USB host ports and one USB device port to extend data export functions and transfer controller configurations. A combination of predefined display features and custom display development tools, user-friendly touchscreen control, and hardware push buttons on the front panel enable easy execution of interface tasks. The 900 Control Station provides advanced record keeping with its expandable flash memory socket, while its support for multiple languages makes it suitable for global applications.What Problems Does It Solve?Honeywell's 900 Control Station helps reduce engineering time with a global integrated database with ControlEdge HC900 process and safety controller, thus reducing users' total operating costs. With its advanced and user-friendly interface, it brings ease-of-use and convenience to users, improving operator efficiency and boosting manufacturing speed.​
Brochure
Name
Description
File Size
Date
Size
TotalCare Services for Scalable Control Solutions brochure
401.08 KB
9/7/2021
PDF 401.08 KB
Application Note
Name
Description
File Size
Date
Size
This is a solution note to enhance Safety and Process Efficiency with the HC900 Process and Safety System
65.63 KB
9/7/2021
PDF 65.63 KB
Application note on Honeywell's HC900 that is desgined for increasing throughput, reducing scrap and lowering
144.05 KB
9/7/2021
PDF 144.05 KB
Honeywell's integrated control and safety solution helped one of Europe's biggest biomass plant meet the highest environmental performance targets while ensuring the lowest lifecycle costs.
888.11 KB
9/7/2021
PDF 888.11 KB
Solution Note: HC900 for Boiler Control Applications
890.37 KB
9/7/2021
PDF 890.37 KB
This application note explains how HC900 and Experion HS provide a secure solution for data reliability.
102.72 KB
9/7/2021
PDF 102.72 KB
Application note on how Honeywell HC900 is capable of delivering a Safety solution for Burner Management Systems.
316.78 KB
9/7/2021
PDF 316.78 KB
Application note on Cooling Tower Water with HC900.
1.01 MB
9/7/2021
PDF 1.01 MB
Case Study
Name
Description
File Size
Date
Size
Calumet Specialty Lubricants used Honeywell HC900 that provides a complete solution for their remote boiler control.
276.34 KB
9/7/2021
PDF 276.34 KB
When the existing control system for the 38 TPD Oxygen Plant at the BRG Iron & Steel plant in Angul, India continued to suffer
254.55 KB
9/7/2021
PDF 254.55 KB
Name
Description
File Size
Date
Size