SCADA
Experion® HS
Experion® HS is a powerful software platform that incorporates innovative applications for Human Machine Interface (HMI) and supervisory control and data acquisition (SCADA).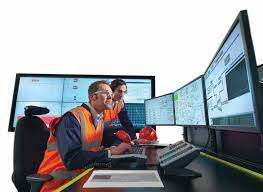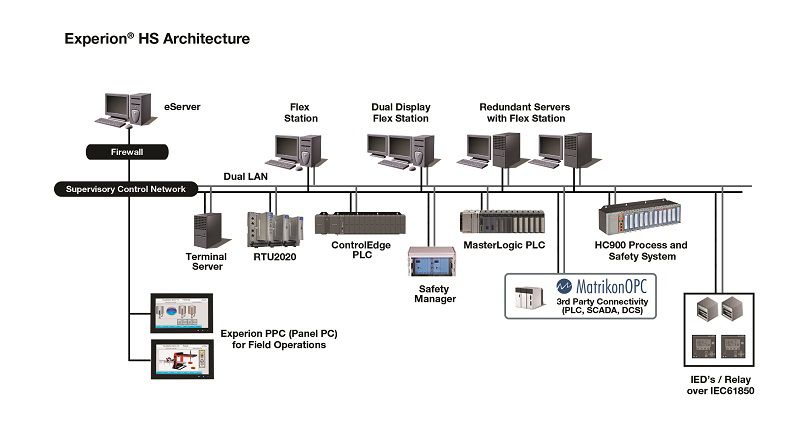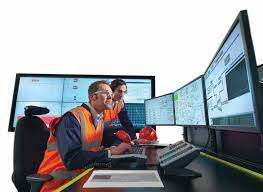 It comprises a subset of Experion PKS components specifically packaged to provide a targeted and robust system for small to medium automation projects.​​​​​​​​​​​​
What Is It?
​​Experion HS is a solution that allows operators to monitor and control the plant environment, using real-time data for displays, trends and loop faceplates. An onboard historian archives valuable plant data. It is easy and intuitive, and can be used by plant managers, plant maintenance engineers, process engineers and operators in many industries to improve efficiency and productivity.The newest version of Experion HS supports Microsoft's Windows 10 operating system and runs on cost-effective workstation-grade personal computers.How Does It Work?​​With out-of-the-box functionality, users simply configure the platform instead of building it from the ground up. Operations can begin soon after point and hardware configuration is complete, and it is highly scalable to meet changing system requirements.Standard features include:
Seamless integration with ControlEdge PLC and RTU for improved configuration time by up to 95%
Enhanced field level HMI connectivity through Experion PPC (industrial-grade touch Panel PC)
One stop SCADA solution – native Historian, integration with ControlEdge HC900, Safety Manager, Safety Manager SC and other third-party devices connectivity
Secure data connectivity and integration over Cloud friendly OPC UA Interface
Distributed system architecture (DSA) that allows HS systems to publish and subscribe data easily from other HS/PC/LX and PKS/EBI (publish only) systems
Wide variety of standard SCADA interfaces – Modbus TCP/IP, DNP3, IEC 61850 Ed2, IEC 60870, Classic OPC DA, HDA and A&E and more
Powerful core SCADA features: HMI, trending, real time database, open connectivity, alarm/event infrastructure, on board historian, server redundancy
Advanced alarm/event management subsystem, 300+ built-in system displays, configurable reports, extensive history collection and trending
What Problems Does It Solve?
​​Experion HS enhances operator response and provides readily available information and data for operator effectiveness. It improves safety management of critical processes and equipment. In addition, productivity tools enable faster and more accurate engineering with automatic documentation creation and improved online modifications and validation, resulting in better engineering and maintenance efficiency.​
Data Sheet
Name
Description
File Size
Date
Size
Experion PPC is an industrial grade Touch Panel PC that extends Experion UI to local field operations with controllers. This robust, easy to maintain hardware is built on open industry standards and provides the proven Experion User Interface.
344.6 KB
9/6/2021
PDF 344.6 KB
Brochure
Name
Description
File Size
Date
Size
Learn more about Honeywell's flexible control systems
542.94 KB
9/7/2021
PDF 542.94 KB
TotalCare Services for Scalable Control Solutions brochure
401.08 KB
9/7/2021
PDF 401.08 KB
Experion® HS is a powerful software platform that incorporates innovative applications for Human Machine Interface (HMI) and SCADA
293.23 KB
9/7/2021
PDF 293.23 KB
Case Study
Name
Description
File Size
Date
Size
Apeldoorn Flexible Packaging, winner of the 23rd DuPont Award for packaging solutions, implements Honeywell solutions to improve quality of their products.
802.64 KB
9/7/2021
PDF 802.64 KB
When the existing control system for the 38 TPD Oxygen Plant at the BRG Iron & Steel plant in Angul, India continued to suffer
254.55 KB
9/7/2021
PDF 254.55 KB
An integrated turbine control solution supplied by Honeywell comprising of MasterLogic PLC and Experion HS SCADA has enabled the Sri Prabhulingeshwar Sugars and Chemicals captive power plant in India to increase profitability.
277.95 KB
9/7/2021
PDF 277.95 KB
The solution for Micro Inks Limited, based on Honeywell's HC900 and Experion® HS with eServer, resulted in 15% lower capital costs than competitors' solutions, while meeting MIL's requirements for reliability, safety, efficiency and scalability
198.67 KB
9/7/2021
PDF 198.67 KB
Application Note
Name
Description
File Size
Date
Size
Solution note on how ControlEdgeHC900 and ExperionHS provides Data Reliability
279.6 KB
9/7/2021
PDF 279.6 KB
White Paper
Name
Description
File Size
Date
Size
The Honeywell Experion platform when combined with ControlEdgeTM PLC provides an integrated control solution for optimized operations and maintenance efficiencies.
765.65 KB
9/7/2021
PDF 765.65 KB
Brief
Name
Description
File Size
Date
Size
Streamlined design for control centers
299.13 KB
2/3/2022
PDF 299.13 KB
Name
Description
File Size
Date
Size